Health
Victoria COVID cases grow by 11; St Albans hospital joins exposure site list
Monday's new cases include seven people linked to the CS Square outbreak in Caroline Springs. One of the cases is a student at Al-Taqwa College.
Health authorities also say they have detected three new cases linked to the Newport Football Club outbreak, including a young child.
Authorities received 38,987 test results and more than 17,000 doses of vaccine were administered across the state.
Victorian Chief Health Officer Brett Sutton said it was right to ease restrictions in regional Victoria given the absence of both exposure sites and wastewater detections in recent days.
"Some protections for regional Victoria relate to Melburnians knowing what they need to do. … so not travelling to regional Victoria, unless they're permitted to, unless there's an absolute reason to do so.
"I've got confidence in metropolitan Melburnians doing exactly that."
Mr Andrews also urged Melburnians not to violate restrictions and go to regional Victoria.
"Don't be putting yourself in a situation where a shopkeeper is going to have to ask you [where you've come from] or Victoria Police member is going to pull you over to have to ask you and your answer … will not be a valid answer."
St Albans hospital joins exposure sites
The easing of restrictions in the regions come after the list of exposure sites in Greater Melbourne expanded throughout the weekend.
The Maternity Assessment Centre at Joan Kirner Women's and Children's Hospital was listed as a tier-1 exposure site after a positive case visited for more than six hours on Friday. Dorevitch Pathology, on the ground floor, was also listed as a tier-1 site.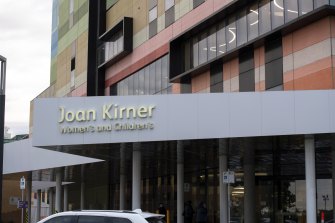 Health authorities also listed the Cafe Bar (in the main corridor of the hospital) as a tier-2 site, and the entire facility has been listed as a tier-3 site.
The Joan Kirner building is on the campus of Sunshine Hospital, where COVID-19 vaccinations and tests are also being carried out. It's the first time a hospital has been added as an exposure site in this outbreak.
Authorities have instructed anyone who went to level three on August 6 between 8.15am and 2.45pm to get tested immediately and isolate for 14 days.
Vaccine available to all adults at nine mass vaccination hubs
Young Victorians have come forward in significant numbers to book an AstraZeneca jab at the state's mass vaccination hubs after the Andrews government announced a change in approach to make the vaccine available to all adults at nine of the 50 sites from Monday.
Victoria has not previously allowed younger people to access AstraZeneca at the state-run hubs, instead referring people to their GPs.
Mr Andrews said health authorities had seen more than 15,000 additional vaccine appointments. "We'll look to add more sites, we'll look to have more vaccine available, we'll have to have more appointments available over the coming days and weeks," he said.
But the Health Department has now confirmed doctors would be in attendance at the hubs to provide advice to people aged between 18 and 39.
Those at the hubs who provide informed consent will be required to sign a document showing they are aware of the rare risk of the extremely rare blood clotting side effect, thrombosis thrombyocytopenia syndrome.
Andrews calls for 'ring of steel' around Sydney
On Monday, Mr Andrews reiterated his plea for NSW health officials to establish a "ring of steel" measure around Sydney to contain the city's outbreak.
"There should be a ring of steel around Sydney," he said. "Then we wouldn't have to be defending our border as much as we are, but that's the decision of the New South Wales government."