Motoring
Toyota RAV4 Hybrid not tough enough for you? New SsangYong KR10 SUV will be "powered by toughness" with eco-friendly engines – Car News
First Great Wall fired a warning shot across the bow of the Toyota LandCruiser Prado with a new sketch detailing the beefed up Tank 600 which is expected to be powered by a new V6 engine.
And now SsangYong has joined the Toyota-hunting party, with Korea's other – other – car maker revealing a preview of its new KR10 SUV, which promises to be "powered by toughness" while still serving up eco-friendly motoring, a kind of beefed-up answer to the RAV4 Hybrid.
That's if it emerges into the real world as a mid-size SUV, which it looks like it will. If it's smaller than that, then the Suzuki Jimny might have some more luxurious competition on its hands.
Read more about the Ssangyong
While details on just what will be powering it remain thin, the brand is promising that "Not only will the brand consolidate its position as an authentic SUV brand that meets the needs of customers, but it will also use eco-friendly powertrains, thereby responding to the biggest trend in the automotive industry which is transforming the way we drive in the future."
There's more big claim for the tough-looking SUV, with the brand promising that it acts as a "line in the sand", with all future vehicles from SsangYong to take a similar, aggressive design approach.
So what do we know about it? Not much, but if the sketch is anything to go back, it will be wide, tough and a little Ford Bronco-like, with the images showing a big, squared-off rear (home to what looks like an externally carried spare wheel) and a powerful front end home to what looks like thick underbody protection of skid plates, and a vaguely Jeep-like grille that splits the spotter-style headlights.
It looks tough, which is, as it turns out, exactly what SsangYong is going for.
"We have re-interpreted our future design vision and product philosophy by drawing heavily on our unique heritage. With the forthcoming J100 and KR10 models, we have drawn a line in the sand in terms of design, and everything from this point forward will follow this new brand design direction," says Lee Kang, head of the SsangYong Design Centre.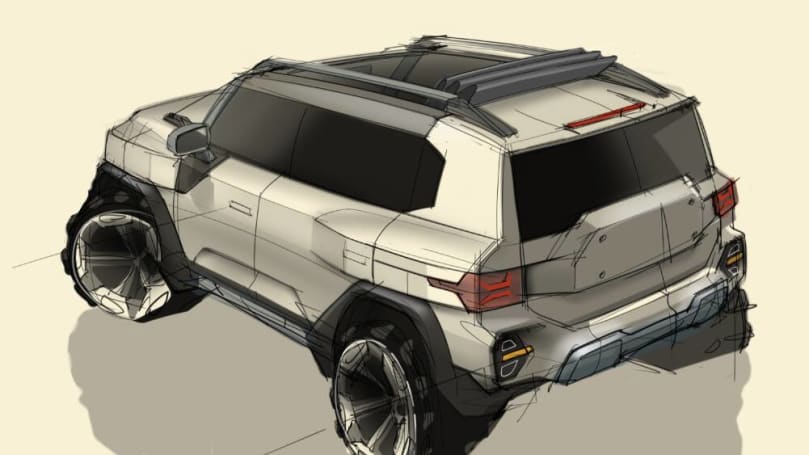 "It is a very exciting time for SsangYong and will build on the history and heritage of its unique and distinctively authentic SUV designs to impress its customers of the future."
An exciting future, sure, but also one under something of a cloud. As we reported last week, Korean car maker is in-between owners, with Indian giant Mahindra in the process of off-loading the brand, possibly to a US firm Cardinal One Motors, which is in the process of trying to raise the required capital.
As if that's not enough to contend with, SsangYong has also faced debt issues, bankruptcy and the temporary shuttering of its Korean vehicle assembly plant.
Source link