Botswana News
Motsomi exhibits his artwork at Linneus, Sanitas :: Mmegi Online
Four visual artists have collaborated to stage a two-week long exhibition at Thapong Visual Arts Centre. The quartet comprises Tebogo Motswetla, Abednico Sechaba, Kelebogile Marope and Isaac Chibua. The exhibition themed 'Open Spaces' opened its doors to members of the public last Thursday May 19, and will end on May 30.
Though his works are in various mediums but for this show, he explained that it was more appropriate to make works that could be framed and hung on the wall. He uses the pieces that comprise of ink drawings, paint and charcoal. "In the cases wherein I have used collage, I have also found materials and used them in unison with the drawn elements of the work. I studied at the University of KwaZulu-Natal, in South Africa where I completed a Bachelor of Arts in Fine art and Honours Degree in Fine art. I have been practicing as an artist for approximately 10 years now," he said.
The young man said issues concerning the black body inspired him, particularly how its perceived and how black people engage with space. For the current exhibition, most of the work he is showcasing are portraits of individuals he encountered in various places and spaces. The large drawings are made of crushed charcoal, ink and transfer prints are the standout pieces for him. He said they had a certain weight to them that he really appreciates.
He said the opening of the show was a great success in many ways and a good reintroduction for him to the Botswana artistic scene. Fortunately, he added that they made a good number of sales, which are reassuring and a good sign that there was growing appreciation for contemporary art in the country. Most of his work is figurative but on a conceptual note, he focuses on issues of identity and the politics that he goes with. "I have exhibited my work in a number of countries such as South Africa, Germany, Israel and China. Most recently I exhibited on the Turbine Art Fair online programme via Artsy.com.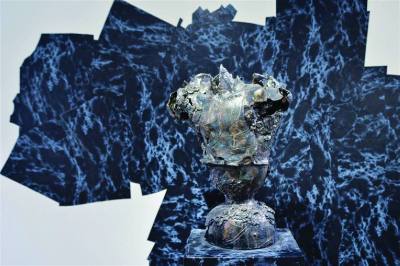 I am not signed to a gallery so sales are mostly made directly through contacting me via my Facebook page and my Instagram page." "Being based in Francistown can be challenging in terms of networking and finding quality fine art materials to make work. Some of my top achievements have been the two artist-residencies in Israel and Germany where I was able to showcase internationally and work with other artists from across the world," he ended.
var script_addthis = document.createElement('script'); script_addthis.type="text/javascript"; script_addthis.src="https://s7.addthis.com/js/300/addthis_widget.js#pubid=ra-5f3a367efff3cc36"; script_addthis.async = true;
var script_addthis_help = document.createElement('script'); script_addthis_help.type="text/javascript"; script_addthis_help.src="https://s7.addthis.com/downloads/ajax_help.min.js"; script_addthis_help.async = true; var addthis_config = addthis_config || {}; addthis_config.data_track_addressbar = false; addthis_config.data_track_clickback = false;
var script_fb = document.createElement('script'); script_fb.src="https://connect.facebook.net/en_US/sdk.js#xfbml=1&version=v10.0&appId=831585710912282&autoLogAppEvents=1"; script_fb.setAttribute('nonce','BlRghIV6'); script_fb.crossOrigin = 'anonymous' script_fb.setAttribute('async', 'async'); script_fb.setAttribute('defer', 'defer');
var readspeaker = document.createElement('script'); readspeaker.src="https://cdn-af.readspeaker.com/script/13066/webReader/webReader.js?pids=wr"; readspeaker.type="text/javascript"; readspeaker.id = 'rs_req_Init';
var securepubads = document.createElement('script'); securepubads.async = true; securepubads.src="https://securepubads.g.doubleclick.net/tag/js/gpt.js";
(function() {
setTimeout( function(){ new LazyLoad({threshold: 0}); document.getElementsByTagName('HEAD').item(0).appendChild(securepubads);
document.getElementsByTagName('HEAD').item(0).appendChild(script_addthis); document.getElementsByTagName('HEAD').item(0).appendChild(script_addthis_help); document.getElementsByTagName('HEAD').item(0).appendChild(script_fb); document.getElementsByTagName('HEAD').item(0).appendChild(readspeaker);
},4000 ); })();