Motoring
Memo to 'new' Honda Australia: Add these models to beat Kia Seltos, Isuzu D-Max, Toyota Kluger, Hyundai Ioniq 5, Subaru XV Hybrid and Mercedes-Benz C-Class – Car News
Globally, Honda is on a massive product offensive after years of worthy but unexciting models – otherworldly Civic Type R apart – that have inevitably slipped behind bolder rivals in recent times.
Toyota, Hyundai, Kia and Mazda have all stolen the limelight from the brand once referred to as 'the fear of Europe'.
Australia will see the first real fruit of this with the redesigned, third-generation HR-V hybrid out late this year or in 2022, and then followed closely by the redesigned Civic hatch and CR-V.
Yet there is a litany of other highly promising models available elsewhere that Honda Australia is currently passing on as it switches to an "agency-style business model" with fewer dealers, no-haggle pricing and a leaner operation, among other changes.
There have already been casualties – the City sedan, Jazz supermini and NSX hybrid supercar are history, while the recently revealed Civic sedan won't follow the 2022 hatch redesign – leaving the latter, HR-V and CR-V as the core nameplates, supported by the (ageing) Odyssey people mover and ultra-niche Accord sedan.
This raises an interesting question. Will Honda Australia resist the call of the new?
Here are our top suggestions.
Honda Fit Crosstar
Jazz is dead. Long live the Fit.
Back in late 2019, Honda Australia said it couldn't hope to price the all-new, fourth-generation Fit/Jazz supermini under $20,000 as per the preceding version, but with the world going topsy-turvy since and even the humblest Toyota Yaris auto starting north of $25k, suddenly the Fit, well, fits.
Based on a fresh platform (to be shared with the new HR-V), the Fit ticks a ridiculously high number of desirable boxes – spunky styling (fun fact: with a face inspired by the Shiba Inu dog), a breath-of-fresh-air interior offering amazing cabin space, two-motor hybrid powertrain tech and impressive dynamic capabilities.
In other words, classic Honda qualities, concentrated into an urban-friendly compact crossover.
With an extra 16mm ground clearance, butched-up plastic cladding, chunkier bumpers and roof rails, the Crosstar grade makes for a convincing Yaris Cross or Subaru XV rival. And Aussie buyers can't get enough of either at the moment.
Honda Ridgeline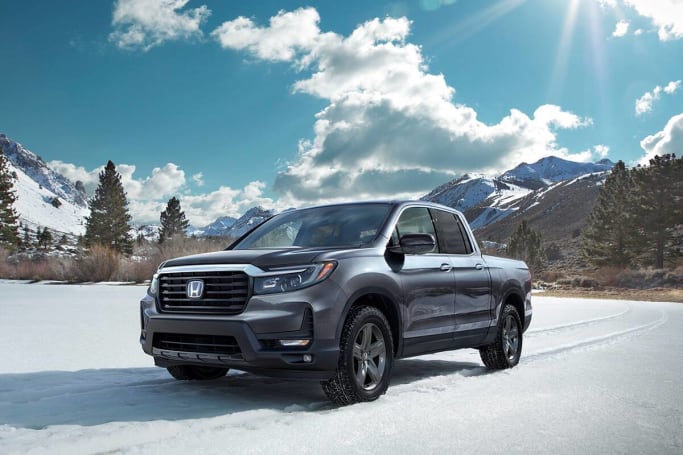 The Ridgeline represents a different way of building a truck – and some say better for the vast majority of buyers for this sort of vehicle.
A large, tough, US-style pick-up designed expressly for North America, the Ridgeline has made a reputation for itself for over 15 years and two generations as a strong, reliable and efficient workhorse that is also comfortable, refined and enjoyable to drive.
What separates the Honda from the Ford F-150 and its GMC, Ram, Toyota and Nissan rivals is the mid-size sedan/SUV monocoque architecture underneath, meaning there is no heavy ladder-frame body-on-chassis construction. This greatly enhances lightness, manoeuvrability, economy and performance, while improving packaging too.
Under that bulky bonnet is a 210kW 3.5-litre V6 driving either the front or all four wheels, via a nine-speed torque-converter auto, while the suspension is fully independent. The AWD version can tow over 2.2 tonnes. Enough for most peoples' needs.
Honda e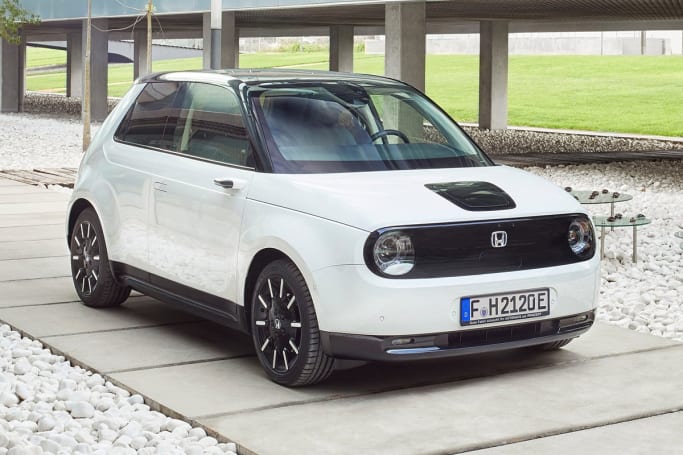 We've harped on before about how great it would be to see the Honda e in Australia.
Even six months ago, it would have seemed like a pipedream. But with the momentum for EVs finally gaining strength in Australia, supported by actions as well as words at long last, the time has come to reassess the electric supermini's status.
The e's range isn't spectacular at just over 200km, but it has been designed for easy use and quick recharges in urban environments. To that end, the styling oozes a retro chic reminiscent of the original (1972-1979) Civic, and the cabin is an airy and sophisticated landscape of screens and multimedia tech.
Backed up by zippy performance, agile handling and slick refinement, the adorable 'e' is an appealing and imaginative urban-focused solution to zero-tailpipe-emissions motoring. And, thus, completely on-brand for a reborn Honda in Australia.
Acura MDX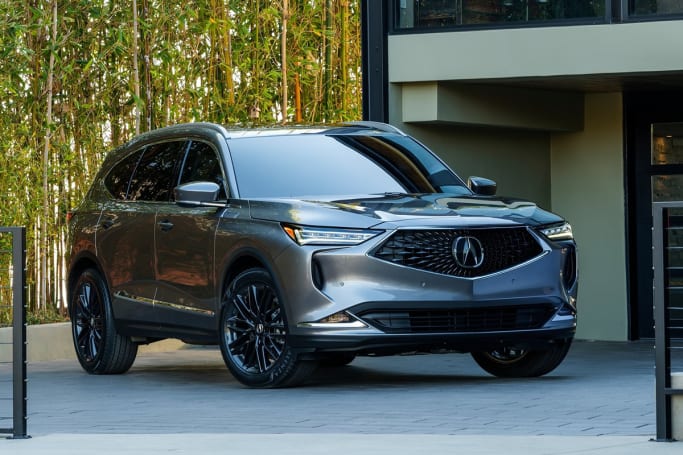 Combining Lexus RX levels of civilised luxury with BMW X5 dynamics, today's MDX from Honda's North American premium offshoot Acura is nothing like the short-lived barge from the early to mid 2000s.
Just launched in fourth-generation guise in the US – where it has already been met with huge success – the MDX has what it takes to give the luxury SUV establishment a real shake-up.
The latest version boasts design that might be the best we've seen on an Acura in decades, sophisticated engineering (including a return to double-wishbone suspension – how old-school Honda) and the choice of a gutsy 3.5-litre V6 or 3.0-litre V6 turbo in the racy Turbo-S grade.  
Three-row, seven-seater luxury interior packaging and high safety and tech spec further underline the ambitious nature of the MDX. 
With Mazda marching upmarket and even Hyundai getting in on the act with the Genesis GV80 SUV, why can't Honda in Australia?  A perfect flagship for the brand's new era.
Acura TLX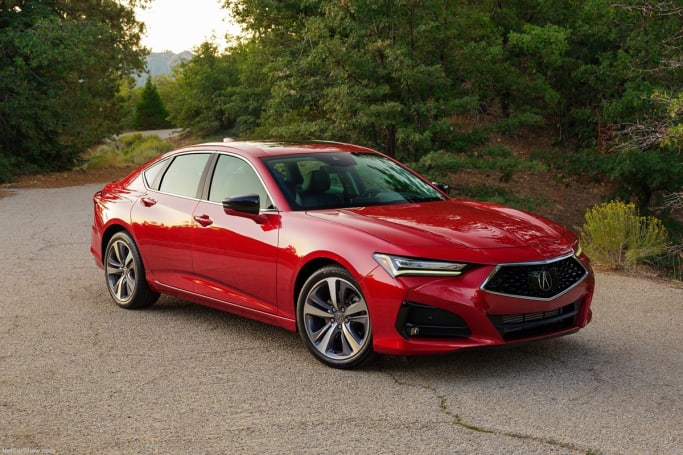 The current US-made Accord is a big, quiet and luxurious sedan that does not really do anything better than what the far-cheaper Toyota Camry it was expressly designed to fight in North America can.
Stealthy, swoopy and a blast to drive, the all-new, second-generation TLX released last year Stateside is the promise of a reborn Accord Euro – and that's not us being fanciful, since the series actually grew out of the TSX, which was the Accord Euro's US and Canadian-market name.
The Euro vibes aren't just in the BMW 3 Series-baiting design, but also under the skin, thanks to available turbo engines in both four-pot and V6 configurations, all-wheel drive, double-wishbone suspension and adaptive dampers.
Yes, mainstream sedans are very likely going the way of the dodo, but as the Mercedes-Benz C-Class and Tesla Model 3 demonstrate, Australians are willing to buy a premium high-tech performance luxury sedan.
This modern-day Accord Euro is it.
Honda BR-Z
With the all-new, 2022 HR-V growing in size, sophistication and (inevitably) price, there's room for a less-expensive SUV to fill the void.
One possibility is the BR-V – a small crossover built in Thailand, India and elsewhere as an affordable entry point into Honda SUV motoring. The existing, first-generation version has been around for over five years now, so a replacement is imminent.
Previously, Honda Australia had revealed that it would be open to options like the BR-V, but only future models that meet safety and specification requirements. The second-generation version due soon may fit that bill perfectly.
Will it be based on the Honda N7X Concept with a seven-seat configuration unveiled earlier this month in Indonesia? While most reports suggest this will be the case when the production model debuts in August, others say that an even smaller and as-yet still-secret crossover will wear the BR-Z badge from 2022.
Source link