Motoring
2021 Audi RS 3 – world's fastest hot hatch revealed | Motoring News
The all-new Audi RS 3 has been revealed ahead of its mid-August launch, bringing with it a list of performance figures that will have seasoned supercars crying for their mummies. The cost? £51,000 or more than you'll pay for two Volkswagen Polo GTIs. Ouch. 
Lets be clear, that money buys you a spectacularly quick car – a 3.8 second 0-62mph time means the RS 3 can show a current Porsche 911 (4.2 seconds) a clean pair of heels. You can also add all contemporary rivals to the victim list, cars like the Mercedes-AMG A45 S (3.9 seconds), Volkswagen Golf R (4.7 seconds) and outgoing BMW M2 CS (4.2 seconds).
The RS 3, meanwhile, will keep going until it hits a top speed of 180mph. That, by our reckoning, makes it the fastest hot hatch ever to go on sale.
In typical Audi style, though, you'll need to pay more for it. The standard car is limited to 155mph, buy a high-end Launch Edition or Vorsprung model and it'll do 174mph, but for the full 180 you'll need to purchase the RS Dynamic Pack and the (likely pricy) ceramic disc brakes. Bit cheeky.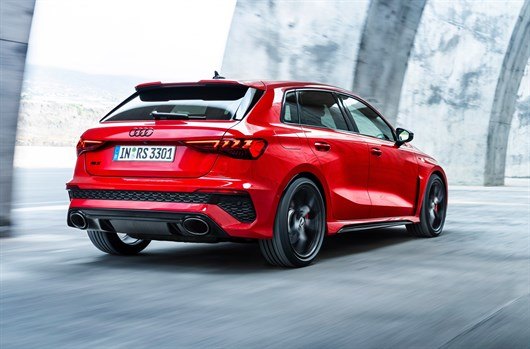 Performance comes from Audi's familiar 2.5-litre turbocharged five-cylinder petrol engine. It has featured in all RS 3s in one form or another, but now produces 400PS and 500Nm of torque (20Nm more than before), along with a deep warble from the exhaust that sets it out from anything else on the road. We're not surprised it's won International Engine of the Year NINE times.
That engine is hooked up to a seven-speed DSG gearbox that is quicker than before and has shorter ratios for gutsier accleration. It should also be perfect for picking your way through busy city streets. Something else that makes the RS 3 more livable is its adjustable exhuast that means you can switch from banshee blare to muffled hum depending on how deeply you dislike your neighbours. 
A new addition to the RS 3's repotoire is Audi's promise that the new car will be fun (not just devastatingly fast) in bends. It's a claim that's backed up by the addition of Audi's RS Torque Splitter, which effectively adds a multi-plate clutch to each rear drive shaft. The result, we're told, is more front end grip because the car can pivot on its axis, not just plough through bends like it did before.
Still too boring? Well, you'll like the drive select's RS Torque Rear setting – Audi-speak for a drift mode – that lets you hang the car's rear end out exiting bends. An unending supply of Cat A to N writeoffs is all but guranteed. 
Uprated suspension should mean at least a few RS 3s aren't destined for crash clips on YouTube. It gets a bespoke suspension setup that should filter out chatter on bumpy roads. However, you'll likely want the optional adjustable dampers that let you choose between comfortable or stiffer settings – or you can just leave it in Auto and let the car do the rest.
The RS 3 sits 25mm lower than standard, 10mm lower than the S3, has RS-specific variable steering that gets quicker the faster you go and front wheels with one degree of negative camber to make it feel more direct in corners. A Modular Vehicle Dynamic Controller does its best to ensure this recipe provides as much lateral grip as possible.
Significant longitudinal forces, meanwhile, can be dished out by the car's standard 375mm six-piston front and 310mm rear disc brakes, which are 20 per cent more efficient at cooling than before. Or you can go for yet another option in the form of fade-resistant ceramic discs measuring 380mm up front.
You don't have to rely on spotting the big brakes to tell the RS 3 from a humble A3. A pumped-up body kit and flared wheel arches that accommodate a wider track (33mm at the front, 10mm at the back) means the RS 3 stands loud and proud from the rest of the range – even if you avoid the exclusive Kyalami Green of the saloon in our pictures. The optional Matrix LED headlights, meanwhile, have a chequered flat motif in their corners and driver's-side light spells out R, S, 3 on startup.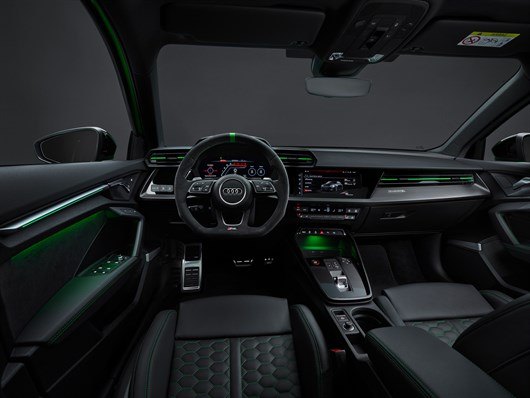 The inside takes much the same approach – it looks like an A3, only a lot sportier. Its 12.3-inch digital instrument binnacle has unique readouts, including a blinking shift indicator and can record 0-62mph and quarter-mile times amongst others.
The 10.1-inch centre touchscreen, meanwhile, has an RS Monitor displaying things like coolant, engine and transmission oil temperatures. A head-up display is something else you can add to the long list of options.
Physical upgrades include sports seats and a sports steering wheel and they are yet more options, including things like carbon fibre trim pieces and a 12 o'clock mark on the steering wheel (yes that costs extra, too).
Sadly, you don't have much time to save. The new RS 3 goes on sale in the middle of next month priced from £50,900 for the hatchback or £51,900 for the saloon. Full prices and specifications will follow before then.